Mother was drunk before boys died in Eastbourne fire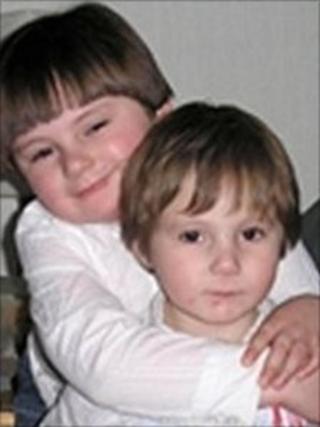 Two brothers died in their Sussex home when fire broke out in their den after their mother had been drinking, an inquest has heard.
Lewis Jenkins, seven, and his brother Taylor, five, died from the effects of smoke inhalation in the house in Milfoil Drive, Eastbourne in 2008.
A lighter and candles were found where the fire had started.
The inquest heard their mother was over the legal drink-drive limit and had been extremely drunk hours earlier.
Denise Goldsmith had spilt from the boys' father, Stewart Jenkins, who was in prison.
'Turned to drink'
The fire started at 15:00 BST and Ms Goldsmith was one and half times the drink-drive limit an hour and half later, the inquest heard.
Toxicologist Ian Humphreys told the inquest at Eastbourne Magistrates' Court calculations suggested Ms Goldsmith would have been about four-and-a-half times the legal drink-drive limit at 02:30 BST that day.
He said that such a level would lead to "extreme drunkenness" affecting balance, co-ordination and speech.
Ms Goldsmith's friend, Victoria Quirke said: "When Stewart went to prison, Denise hit rock bottom and started drinking a lot more. She couldn't handle the boys, so she turned to drink."
Ms Goldsmith, 29, was arrested on suspicion of manslaughter and child neglect five days after the fire but the decision was taken not to prosecute her.
Georgina McCrystal said Ms Goldsmith was "devastated" by her sons' deaths.
"I remember Denise saying that she wished she stayed with her babies," she said in a statement.
The family's GP, Simon Eyre, said both boys were fit and healthy and he had seen no evidence of any physical neglect.
The den created by the boys under the stairs of the house was made with a metal clothes hanger and sheets.
Few minutes
According to one of the boys' friends, they had no lights or candles inside, to make sure it was as dark as possible.
The inquest heard the fire would have taken just a few minutes to take hold under the stairs.
In the early hours of the day of the fire, Ms Goldsmith drank and ended up having sex in her kitchen with Connor Feeney.
Taylor and Lewis were still awake in the front room at about 02:00 BST.
The inquest is due to last up to four days and continues on Wednesday.