Sussex fire deaths mother 'not in a fit state'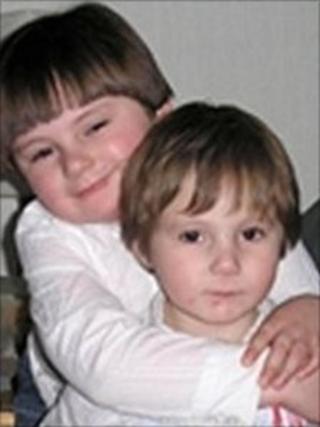 A Sussex mother has admitted that she was not in a fit state to look after her sons the day they died in a fire.
Denise Goldsmith had been drinking heavily in the early hours of the day of the fire, an inquest has heard.
Lewis Jenkins, seven, and his brother Taylor, five, died from the effects of smoke inhalation in the house in Milfoil Drive, Eastbourne in 2008.
The two boys were found in a camp they had created under the stairs at their end-of-terrace, three-bedroom house.
A lighter and candles were found where the fire had started.
The East Sussex coroner, Alan Craze, asked Ms Goldsmith whether she agreed that she was not in a "fit state" to look after the two boys.
She replied: "I obviously wasn't."
Ms Goldsmith said that Taylor in particular had an interest in fires. She recalled him setting paper alight in his bedroom at the family's home.
The inquest also heard that 14 disposable lighters were found at the house, along with matches and tea light candles.
'Died within minutes'
Neighbour Pauline Cole said: "There was a big gust like an explosion and then a big gust of black smoke came out."
She said: "Another gust of wind blew the smoke away and I saw a lady in what looked like a short night-dress with no bottoms on, and she was just standing in the middle of the grass with her arms wrapped around her.
"Then people started coming out of their houses. From her body language, she didn't know where she was. She was going round in circles."
Neighbours said that all through the incident she screamed "my babies, my babies", and had to be held back from going into the house
Another neighbour, Shirley Parris, said: "All through the incident she was screaming 'my babies, my babies' and she said they were under the stairs."
She added: "Denise got really, really hysterical. I thought to myself, I can't do anything. I thought she was going to try to get in so I pulled her away on to the green.
"I was really struggling to hold her back. I really believed she was trying to go in."
Boy called out 'mum'
Fire investigation officer Mark Hobbs, from East Sussex Fire and Rescue Service, said Ms Goldsmith had tried to educate the boys about the dangers of fire, and handling matches and lighters.
He said Ms Goldsmith appeared to be suffering from a late night and heavy drinking on the day of the fire.
"This may have compromised her ability to detect the fire and deal with it in its early stages," he added.
East Sussex Coroner Alan Craze said it was believed the boys would have died within one or two minutes.
He told Mr Hobbs: "What that means is that however heroic the efforts of the neighbours and your own firefighters, they would not have impacted on saving those two boys."
The inquest heard the house had two smoke detectors but neither device was working.
It had no sprinklers but there was no requirement for the landlord to have sprinklers installed.
Ms Goldsmith broke down on hearing evidence that one of the boys called out "mum" after the fire broke out.
The inquest heard she was the first person to dial 999.
On Tuesday, the inquest heard Ms Goldsmith was over the legal drink-drive limit and had been extremely drunk hours earlier.
She was arrested on suspicion of manslaughter and neglect of the children but it was later decided she would not face prosecution.
The hearing continues.