Six held in fake cigarette raids in Hastings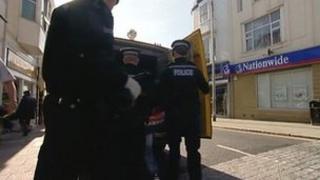 Six people have been arrested and fake and smuggled cigarettes worth thousands of pounds seized in police raids on shops in East Sussex.
A total of 140,000 cigarettes and thousands of packets of hand rolling tobacco were seized in the raids.
Police said the goods, which were seized from four shops and one residential address in Hastings and St Leonards, were worth about £30,000.
Two shops were closed down for suspected breaches of fire regulations.
It follows a BBC South East investigation in which covert filming uncovered an illegal trade in cigarettes and tobacco taking place in four stores in Hastings.
Organised crime
Packs of 20 cigarettes were discovered being sold for £2 to £3, less than half of the average UK price of legal brands.
Smuggled cigarettes from Belarus, Ukraine and Russia and fake UK brands were sold to three undercover reporters.
Thursday's raids come after a three-month investigation by Sussex Police and trading standards officers.
"Hastings is only part of a national organised criminal activity," said Insp Mark Bright.
"It is an insignificant amount compared to the illegal trade that is happening across the country."
Sgt Simon Yates said the trade had been growing in Hastings and St Leonards over the past few months.
"That is why it is time for us to act to stop it and prevent it getting any bigger," he said.