Hassocks fatal hit-and-run vehicle found in Worthing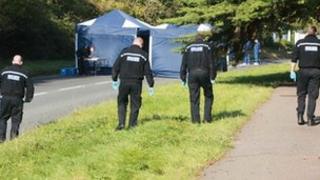 A vehicle sought in connection with a suspected hit-and-run crash in which a man died has been located by police.
The victim, who was local and in his 20s, was found lying in the road on the A273 London Road in Hassocks, West Sussex, at about 04:30 BST on Saturday.
Sussex Police said when they arrived the man was dead and debris from a collision with a vehicle was nearby.
Insp Steve Grace said the vehicle involved had been found in Worthing, but the driver had yet to be located.