Jimmy Millen murder widow criticises police 'inaction'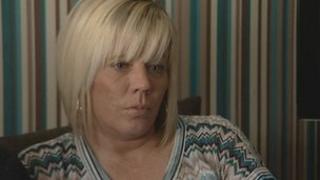 The wife of a doorman who was murdered in St Leonards 10 years ago has criticised Sussex Police for lack of action in finding the killers.
Jimmy Millen, 27, was shot dead outside his home by two men who drove past him on a motorbike. No-one was arrested.
His widow, Michelle Millen, said: "Ten years on, these people are still walking the streets and literally nothing has been done."
Police said the case was unresolved but would be subject to a review.
The family have claimed police have not acted because Mr Millen had a criminal record, and they also believe his killers live locally.
Mrs Millen said: "I don't think the police have been fair to us as a family. I think it's a joke, an absolute joke."
At the time, police linked Mr Millen's death with the disappearance of another man in the town, Jason Martin-Smith, originally from Camberley, Surrey.
In a statement, Sussex Police said: "The murder of Jimmy Millen in St Leonards on 24 October 2001, and the disappearance of Jason Martin-Smith in August 2001 remain unresolved despite an exhaustive inquiry by Sussex Police detectives over the following six months.
"Since then there has been no new information and no new lines lines of inquiry. The case is not being reopened but it will be subject to a review as part of our standard policy for unresolved serious crimes."
After the shooting, police said Mr Millen had his back to his killers. He crawled to nearby Carpenter Drive but died in hospital.
It was later revealed that he had a criminal record after serving a sentence for assault.
In 2005, officers appealed for information from the criminal fraternity about his killing.
At that time, Det Supt Kevin Moore said: "Bearing in mind Jimmy Millen's background it may well be that somebody from the criminal fraternity actually contacts us and tells us exactly what happened and provides the evidence."