Bognor Regis shows defiance after politician's outburst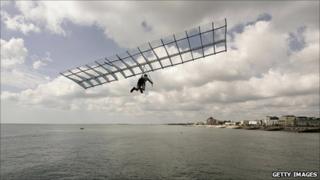 Bognor Regis has fought hard to throw off its image as a rusty seaside resort with an unfortunate sounding name.
But its reputation has recently been sullied by a councillor from neighbouring Horsham who publicly described it as an "old banger" and a "dump".
Andrew Baldwin's comments provoked the wrath of the people of Bognor and he has since apologised.
In a debate over free parking he said likening Horsham to Bognor was the same as "comparing a clapped-out old banger to a Rolls Royce".
But Bognor's mayor Jim Brooks said Mr Baldwin's sentiments were wrong on many levels.
'Feeling the pinch'
"What is funny is that most of Rolls Royce's parts are stored in a warehouse in Bognor and most of its skilled workers live here as the factory is only 15 minutes away," he said.
Despite Mr Brooks' defence, the town has been the easy butt of many jokes.
"The 'bog' part of Bognor is a little jokey, but we embrace that," he said.
"Like all other resorts in the UK we felt the pinch when people started holidaying abroad, but that's changing now with more people staying home."
The town was granted the royal suffix of "Regis" in 1929 after King George V stayed there to convalesce after an illness.
But ironically it was he who is credited with uttering the most famous insult against the town - "bugger Bognor".
How this came about, or even if it did, is debateable, but there are two versions of the story.
One has it that he uttered the phrase when initially approached about the town's request for the "Regis" suffix.
The other states that on his deathbed it was put to him he should return to the town to get better. His contempt for this advice resulted in the angry outburst.
'Justice'
Whichever version is true the phrase has lasted longer than any snappy tourist slogan possibly could.
Steve Goodheart, who organises Bognor's Rox Music and Arts Festival, which is one of the largest free festivals in the country, said: "If there's any justice in the world the Queen should turn around and say, 'no, Bognor isn't to be buggered'."
Mr Goodheart said the festival, which has run for 22 years and attracted 44,000 people last year, is one of the reasons why Bognor punches above its weight.
The town also claims to be the sunniest place in Britain, home to the original birdman flying competition and boasts that Butlins are considering building a third "luxury" hotel in the town.
And it is this staunch defence of the town from outside attack that characterises its residents.
Kevin Murphy, who is area manager for Bognor Pier Leisure Trust, said: "I love Bognor - I love the people and the place.
"What has Horsham got going for it? The only reason people from Bognor go there is to fly out of Gatwick."