Sussex Police broadcast 24-hour live video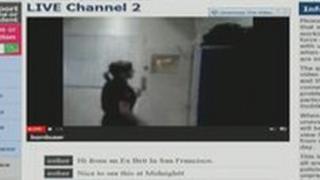 A 24-hour live video stream has been broadcasting the work of Sussex Police, allowing visitors to its website to follow officers via video links.
Chief Constable Martin Richards said the event had been a "breakthrough" in understanding the needs of the community.
By 18:15 BST, the live footage had attracted nearly 50,000 views and more than 1,500 comments had been posted.
The broadcast is thought to be the first of its kind in the UK.
'Extraordinary change'
From 08:00 BST, the force began hosting a webchat and streamed a briefing with the specialist search unit, which is trained to operate in challenging environments such as underwater or in confined spaces.
At first, technical problems prevented people from posting comments but the issue was later resolved.
The live stream has included a tour of the police helicopter, a training exercise with the diving team at Shoreham Harbour and a behind-the-scenes look at Crawley police station.
Mr Richards said: "It has been going great from our point of view.
"We do community meetings, called 'street meetings', where we usually attract about 20 to 30 people to talk to an officer.
"We just did one online in Hove where 900 people logged on and 50 of those got their questions across.
"It's a very cheap way of getting thousands to look at what we do."
Twitter 'conversation'
The website has followed officers via video links as they undertake patrols in cars and on foot.
The live video streaming software has been provided at no cost to Sussex Police.
There have also been web chats and a live "conversation" on Twitter, where people can join in by following the hashtag SPPLive.
As part of Friday's coverage, regular updates and comments have been added by Mr Richards.
In the evening police were due to attend a candlelit vigil for International Hate Crime Day at Old Steine, Brighton.
Web users will also be able to follow police as they deal with revellers in Brighton city centre from 23:00 BST.
The force said some live streams might be cut or muted for legal reasons but it aimed to broadcast the challenges its officers and staff faced every day.