Sussex Police live video broadcast attracts thousands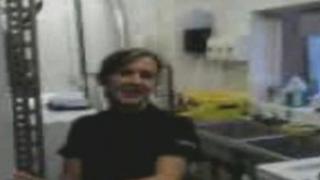 "Breaking news. A man has just made coffee. More as it happens."
That was how one Twitter user sarcastically greeted the opening morning of Sussex Police's live video stream.
Others welcomed the force's attempts to improve transparency and lift the lid on its working day.
The initiative, thought to be the first of its kind in the UK, began just after 08:00 BST with a team briefing of officers.
Recorded on a mobile phone and streamed live on one of four channels set up for the day, the footage showed officers from a specialist search unit planning the day ahead.
Rescue helicopter
The team's role involves working in challenging environments such as underwater or in confined spaces.
But the practicalities of a morning meeting do not make for spectacular viewing, particularly when watched on stuttering mobile phone footage.
On the Twitter feed, Roger Williams commented: "What is the bald bloke doing? I've only seen him scratching his ear so far."
Another posted: "Just goes to show any job can be dull but great to see the police being so open."
Technical problems put a swift end to the webchat, while the streaming feed was initially unreliable.
But interest picked up when the briefing ended and the team began their working day.
Sgt Lorna Dennison-Wilkins talked about the some of the challenges her team faced as she made her way to Shoreham Harbour for a diving training exercise.
Harrowing work
She discussed a time when her team recovered the body parts of a man who had killed himself with a shotgun.
Opening up to her interviewer, she said she struggled at first to discuss the harrowing details of her work with her family.
Within the first few hours, the live footage attracted more than 18,000 views and more than 500 comments and questions were posted.
The Twitter feed also caught the imagination of the public - more than 100 people were following it on the social networking site within the first few hours.
The reaction was mostly positive.
Andy Bloxham said he was "loving the brilliant insights", while Andrew Gretton said he "thoroughly approved".
The initiative has taken months of detailed planning by the force's media team to set up.
The live events include a tour of a forensic science laboratory, an online public meeting in Hove, as well as dog unit briefing and web chat with Sussex Police Authority.
Chief Constable Martin Richard said he wanted to show the public "what policing is really like" and "lift the lid on policing in 2011".
By shining a light on to every aspects of the force's day - including the bleary-eyed morning meetings and the mundane desk work - perhaps he has achieved his goal.
Twitter user Stephen Webber, however, remains unconvinced. "It's some people sitting down. At Desks. Streamed live," he wrote.