Brighton Sea Life Centre closes for restoration work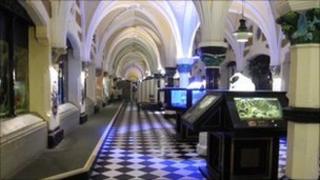 A Sussex tourist attraction has closed to allow restoration work to start on its Victorian architecture.
Brighton Sea Life Centre is bringing in a team of specialist stonemasons to restore the ornate stonework in the arcade section of the aquarium.
Much of the arcade's stonework dates back to 1872 when the first aquarium opened.
The work will mean that hundreds of sea creatures will have to be moved and temporarily rehoused in other centres.
A spokesman for Sea Life said: "The moisture from such a large quantity of saltwater inevitably takes its toll on any structure.
"We very much regret the need to close our doors for a period but welcome the opportunity to restore this magnificent and historic building to something like its original splendour."
As well as the restoration work, display tanks will be renovated and two new areas will be completed ready for the reopening in March 2012 when the centre will be celebrating its 140th anniversary.