Crawley Town footballer denies posting anti-gay tweet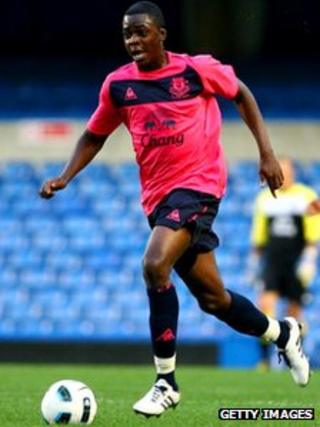 The FA is investigating an anti-gay comment posted on the Twitter page of a Crawley Town footballer.
A tweet on Hope Akpan's account complained about the number of gay people on TV, adding he was "fully homophobic".
It has since been deleted and the footballer has said it was written by a younger member of his family.
The club has backed the 20-year-old player and said it does not condone discrimination of any kind.
The manager of the League Two club, Steve Evans, said: "Hope confirmed that he had been made aware of the comment by a team-mate, was astonished by its content and deleted it immediately.
"Having spoken to Hope at length, I accept that the comments were added to his Twitter account by a young member of his family without Hope's knowledge.
Gay rights
"The view expressed on Hope's Twitter account are not shared by any member of the staff of Crawley Town FC. As a club we do not condone discrimination of any kind."
Footballers have increasingly used the micro-blogging site Twitter to express their opinions.
The comment on Akpan's page said: "Gays all over the tele what's wrong with Britain! Sorry I'm #FullyHomophobic."
Gay rights campaigner Peter Tatchell said: "He says these comments were posted by a younger member of his family without his knowledge or consent.
"In the absence of evidence to the contrary we will have to take his word for it, but I'm surprised and disappointed that he didn't make a positive statement saying that he himself deplored homophobia."
A spokesman for the FA said: "We're currently looking into the matter."