Firework may have sparked blaze at Shoreham flat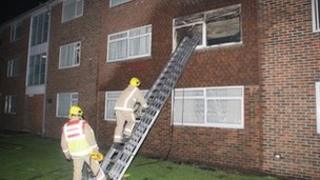 A stray firework is believed to be the possible cause of a fire in a block of flats in West Sussex on bonfire night.
West Sussex Fire and Rescue Service was called to the blaze in a first floor flat at Rosslyn Court in Rosslyn Road, Shoreham, at about 18:30 GMT.
The property was badly damaged but the flat's occupant and people in neighbouring flats escaped unhurt.
A fire service spokeswoman said there had been speculation a firework was to blame for the fire.
She said fire investigation officers were working with Sussex Police and would be returning to the scene on Monday.