Rebecca Reasbeck: Care home blaze accusation 'sick'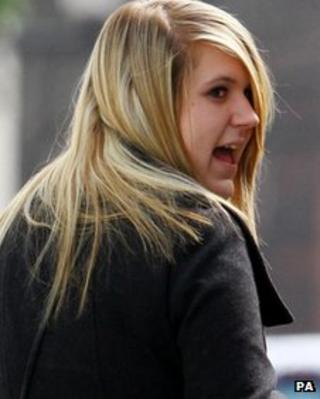 A care home worker said it was "sick" to suggest she had killed an elderly resident by setting her room alight, a court has heard.
Rebecca Reasbeck, now 20, told police she would never have harmed 85-year-old dementia sufferer Irene Herring.
Mrs Herring died in hospital the day after the fire at the nursing home in Ancaster Court, Bexhill-on-Sea on 1 February 2009.
Ms Reasbeck, from St Leonards, denies manslaughter at Lewes Crown Court.
The court heard police statements given by Ms Reasbeck after she was arrested during which she strenuously denied starting the fire.
'Act the heroine'
Asked by police in interview whether she deliberately started the fire, Reasbeck replied: "That's sick. Why would I do that to an old lady?"
Pressed further, Ms Reasbeck was asked whether she had tried to "act the heroine" so that she could have been seen to have saved Mrs Herring.
She told officers: "I have never heard anything so stupid in my life and I'm sorry if that sounds nasty. It's sick - plain and simple."
Mrs Herring was rescued by firefighters from her top-floor room.
She was treated by paramedics and taken to hospital, but died of pneumonia brought on by smoke inhalation the following day.
Prosecutors allege Ms Reasbeck started the fire deliberately in two separate places at the Bupa-run care home when she was aged 17.
The trial continues.