Lifeboat crews save yacht skipper off Beachy Head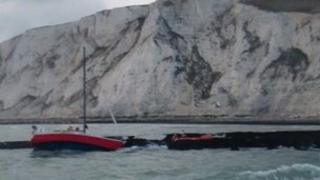 The skipper of a stricken 30ft yacht had to be rescued by lifeboat after the vessel ran aground off Beachy Head.
Both the inshore and all-weather RNLI lifeboats from Eastbourne, East Sussex were sent to the rescue on Wednesday.
Two crew from the yacht had managed to scramble across the rocks to shore after the yacht struck a submerged ledge and began taking on water.
RNLI crewman Andy Chatton climbed across the rocks to the boat but it was too badly damaged to be saved.
The shocked skipper was taken to Sovereign Harbour on the all-weather lifeboat after the yacht was abandoned.