X Factor asked to reimburse money to Rhythmix charity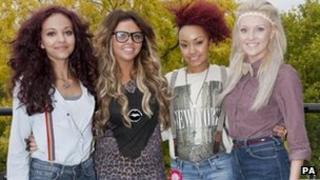 A Brighton charity which successfully forced an X Factor band to change their name has appealed to the show to cover its legal costs.
Rhythmix claims to have incurred an £8,000 legal bill after the girl group - now called Little Mix - tried to register the name as a trademark.
The girl group changed their name following a Facebook campaign.
But the chief executive of the Rhythmix, Mark Davyd, said the charity had been left with a large legal bill.
Mr Davyd said: "In six weeks nobody at the show has been able to explain why they felt this was an appropriate thing to do, or why they haven't felt able to deal with it in a responsible way subsequently.
"£8,000 is three seconds of advertising on the X Factor or 120 hours of creative opportunities for vulnerable young people."
The charity uses musicians to work with young people across Sussex, Surrey and Kent.
Green MP for Brighton Pavilion Caroline Lucas is backing the charity's attempt to recoup its legal costs and has tabled an Early Day Motion in Parliament to that effect.
She said: "This costly action has caused Rhythmix to incur legal fees to the tune of £8,000 - a lot of money for a small organisation with limited funding."
A spokeswoman for Syco, Simon Cowell's production company, said: "We are happy to withdraw the application for the trademark, as initially offered at the time of the name change to Little Mix.
"Syco have in fact been asked not to do this by the charity.
"We remain happy to withdraw it and we do not intend to use this name at any time in the future. We conclude this matter is closed."