Arrests over 150,000 fake DVDs and CDs seized in Sussex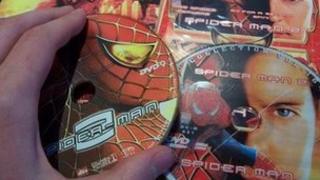 Two men have been arrested after 150,000 DVDs and CDs, 100 computer hard drives and counterfeiting equipment were seized from a West Sussex flat.
The pair were held after police and British Phonographic Industry (BPI) investigators raided a flat in Bognor High Street and a house in Felpham.
The BPI said it was one of the largest domestic factories they had uncovered.
Two men, aged 50 and 23, were both arrested on suspicion of conspiracy to contravene copyright laws.
They were also questioned about money laundering offences before being bailed until 5 June 2012.
'Truly commercial scale'
David Wood, BPI director of anti-piracy, said: "These arrests are significant in that it is one of the largest domestic factories uncovered to date in the UK.
"It had the capability of manufacturing and distributing counterfeit product on a truly commercial scale."
Sussex Police said equipment to copy music, films and software and a catalogue of 25,000 titles that had been distributed "to an extensive client" base had also been seized during the raid on Tuesday.
The items are now being examined by forensic experts.