Iron Maiden star vows to resurrect Astraeus Airlines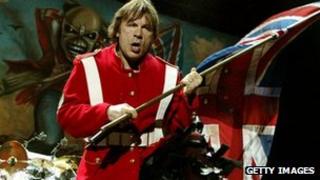 The lead singer of Iron Maiden has vowed to resurrect a Sussex airline which has gone into administration.
Bruce Dickinson was a pilot and marketing director for Astraeus Airlines, which was based in Crawley.
The company announced on Monday it had gone into administration due to "lower than expected" summer business.
The singer, who captained the airline's final flight from Jeddah, Saudi Arabia, said he was working on a plan to save the company.
He said: "I'm already working on a plan to try to save Astraeus, or at least create a new business with new jobs for my friends and former colleagues at Astraeus."
He said a "number of prospective investors" had expressed an interest in the company and that he was working on plans to create a new flight training company.
'Back at the controls'
"The enthusiasm is also fuelled by the deluge of messages I received from the second I switched on my phone after landing the last Astraeus flight on Monday, and, of course, the interest of a number of prospective investors," he said.
"I will be back at the controls of a commercial airliner before I am very much older, but I may also be at the controls of the company that operates that airliner, and others like it."
Mr Dickinson had used the airline to transport his band during a tour in spring 2008.
He also flew the Liverpool football squad to Naples in October 2010 for a Europa League match.
Astraeus Airlines was founded in 2002 and switched to leasing aeroplanes in 2008.