Hove legal secretary Leanne Harris admits £500,000 theft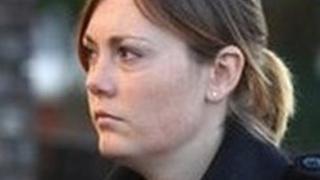 A legal secretary has admitted stealing nearly £500,000 from clients' accounts.
One of 25-year-old Leanne Harris's two victims was an elderly woman over whom she had power of attorney, Hove Crown Court was told.
Harris worked at Arscotts Solicitors in Lansdown Place, Hove, from 2008 until last year. The law firm has since gone under with the loss of up to 36 jobs.
Harris, of Gildredge in Whitesmith, near Lewes, Sussex, will be sentenced on 27 January.
'Deeply ashamed'
The court heard Harris wrote false cheques in the name of a Mr Harris, taking more than £419,000 from client Joan Watson.
Harris admitted five counts of fraud against Ms Watson.
She also admitted stealing £64,815 between August 2007 and April 2010 from Miriam Turnbull, over whom she had power of attorney.
It is thought she came into contact with Ms Turnbull through a company which she set up before she joined Arscotts.
Prosecutor Michael Warren did not open the details of the Crown's case.
Defending, Lewis Power QC said Harris and her husband had faced financial difficulties and were struggling to repay loans, meet bills and pay a mortgage.
He added that Harris was "deeply ashamed" of her actions.
'Psychotic personality'
Mr Power told the court: "It started off with her taking £2,000 to pay bills.
"She thought no-one would notice and she would return the money before anyone did.
"But of course that became a spiral effect and smaller amounts turned to much larger amounts."
Harris had been coping with her husband's psychotic personality, her mother's nervous breakdown and her father's bowel cancer, Mr Power added.
He said she had since repaid about £250,000 with the help of her family.
The court heard Harris left school with seven GCSEs but never passed exams as a legal executive.