Compulsory purchase of Hastings Pier approved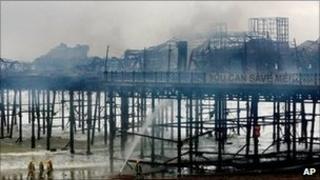 The owner of Hastings Pier has been given two months to start repair work by Hastings Borough Council.
At a meeting on Monday councillors decided if this did not happen it would then seek a compulsory purchase order to save the pier.
The pier was hit by fire in October 2010 and repair work was backed by £118,000 grant from English Heritage.
Since the fire, owner Panama-based Ravenclaw has failed to respond to approaches by the council.
A repairs notice will be served on Ravenclaw by the end of November, giving the company two months to respond.
If no response is received, the council will enact the compulsory purchase.