Shoreham beach residents 'not consulted' on boardwalk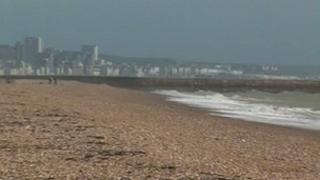 Residents in Shoreham, West Sussex, have criticised the district council's communication on a new boardwalk which they said compromises their privacy.
Dave Simmonds, from Adur council, said the new pathway had been well publicised.
But Adash Nicholson and Taya Papa, whose bungalow backs on to Shoreham beach, said the council did not involve them in choosing its location.
The boardwalk is being built to enable wheelchair users to access the beach.
Mr Nicholson said: "It is a path right outside the back of our house, people will be able to see inside our house.
"My main gripe is not the existence of the path, it is a great idea, it's the poor communication from the council.
"There are other options available in terms of location, which from a conservation and access point of view and for local residents are better options which weren't considered."
'Least disruption'
Ms Papa said the boardwalk would attract more foot passengers with dogs and would probably also be used as a cycle path.
Mr Simmonds, cabinet member for health, safety and wellbeing, said there had been a lot of publicity about the new boardwalk which the council decided to build in 2009 in response to a 750 signature petition.
He said the council worked with the Environment Agency to choose an area that would cause the least disruption to plants.
But Mr Nicholson argued the council could have sent him a letter explaining what they were considering doing.
The boardwalk, which will be made of re-constituted plastic and will link Ferry Road and Shingle Road along the beach, is expected to be completed by the end of December.