Strike march continues Brighton's tradition of protest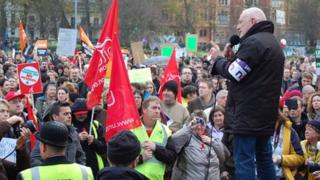 Brighton is no stranger to public protest.
In this year alone it has sprouted two separate anti-capitalist camps, several public sector rallies and an English nationalist march.
But it was Wednesday's public sector strikes over pensions which have drawn the largest crowds.
Police estimate up to 6,000 people took to the streets on the damp November morning.
The government has said it is "unfair and unrealistic" for taxpayers to foot the rising public sector pension bill.
'Distinctiveness'
The marchers, from several separate unions, converged upon Victoria Gardens following pickets around the city.
They joined together blowing whistles, banging drums and chanting slogans, but it was not long before some protesters took objection to the police officers who were video recording events.
A group of them rushed over and held their umbrellas in front of the camera. Eventually the officer and a colleague were forced to retreat and find a new vantage point.
The march was intended to project a display of mutual disgust over the government plans to alter public sector pensions.
But in Brighton they were preaching to the converted.
The Green Party are in charge of the council and the city elected Caroline Lucas as the UK's first Green MP.
Unsurprisingly, the Occupy movement which swept the globe following the protests in Wall Street, also found a home in Brighton.
And the thriving camp has received little but praise from the Green administration.
'Grass roots'
Tom Hickey, principal lecturer in philosophy at the University of Brighton, said the country was moving towards the city's more alternative view of the world.
"Brighton does have a distinctiveness but one of the characteristics [of the strike] is that the whole of the country is becoming increasingly like Brighton and looking for an alternative," he said.
Protester Malcolm Cook, who is part of the Occupy Brighton movement, also saw the strike as a coming together of various left-of-centre political groups.
He said: "Today is the day when the unions and the grass roots meet. All the unions are coming out and nailing their flags to the Occupy mast.
"If this isn't a groundswell I don't know what is."
'Radical union'
The Green Party said it supported the strikes and would help out council workers by deferring the docking of pay until February 2012.
Speaking to protesters at a rally at the end of the march Ms Lucas congratulated workers who were striking for the first time.
Her views were echoed by Carole Brownsey, who works for the Surrey and Sussex Probation Trust, and is chairwoman of its branch of NAPO.
She said: "We're not a radical union - we've only been on strike three times in our 99-year history. It just shows how strong people feel about their pensions.
"Brighton has a radical population who are used to taking part in things like this."