Beachy Head Christmas Jumper beer sparks row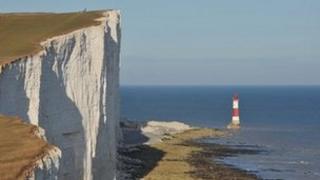 The husband of a woman who died at the notorious Beachy Head suicide spot in East Sussex has said he is "disgusted" over the name of a local beer.
Keith Lane, 61, from Polegate, whose wife Maggie died at the cliff in 2004, said the Beachy Head Christmas Jumper ale was "in bad taste".
Mr Lane said the Beachy Head Brewery could easily have chosen another name.
Roger Green, from the brewery, said the name was inspired by sweaters worn by Santa Claus.
He added: "The name is derived from the woolly jumpers that Santa wears. It started life as a pump clip in one of the pubs with Santa in a jumper.
"When we bottled it we gave it a label with a standard background that we use, and now someone has taken it the wrong way."
He said the brewery had not received any other complaints in the two previous years the beer had been sold.
Mr Lane said: "It could have been misconstrued but, now the brewery is aware of the objections to it, it should rename it because hundreds of people have been touched by deaths at Beachy Head.
"When I first saw it I thought it was disgusting. I couldn't believe it.
"All the people I have talked to about it have said to me how much in bad taste it is. If I had seen it in a pub, I would ask who brewed that."
Members of the Beachy Head Chaplaincy Team - who have helped people in distress at the 530ft (162m) cliffs since 2004 - also called on the brewery to change the name.
"Beachy Head is also a place of outstanding beauty and we would encourage a more positive message in the name of the locally-made ale, rather than cause genuine upset amongst those who have lost a friend or relative at Beachy Head."