London 2012: Sussex staff 'unaware of working on 2012 Olympics torch'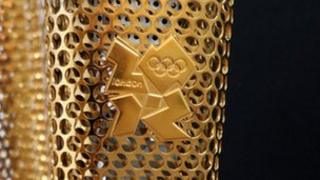 Workers in West Sussex spent a year on a project before discovering they had helped make the 2012 Olympic torch.
Staff at Best Electroplating, in Crawley, were simply told "a client" had commissioned them to gold-plate some aluminium samples.
After a year, workers were asked to sign a confidentiality agreement by the International Olympic Committee.
They then discovered they had been preparing samples for nine Olympic torch prototypes.
Mark Easton, joint director of the firm that has four employees, said: "We weren't allowed to talk to anyone because the following week the torch was to be unveiled in London."
The nine gold-plated prototypes of the torch made by the company are used in advertisements.
The company has been involved in other interesting projects, such as making props for London stage shows like Billy Elliot, Wicked and We Will Rock as well as movies, such as those in the Harry Potter and James Bond franchises.
But the latest Olympics project has had a big impact on the firm.
"It is totally awesome, we are still gobsmacked to be involved in a big way," he said.