Littlehampton Hospital campaigners visit Downing Street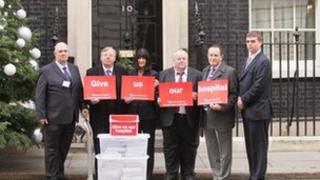 Campaigners fighting for a new hospital in Sussex have delivered 8,000 protest letters to Downing Street.
The campaigners said health chiefs "promised" a new hospital for Littlehampton when the old one in Fitzalan Road was demolished in 2005.
The letters called on David Cameron to urge NHS Sussex to reveal why a new hospital has not been built.
NHS Sussex said a series of reviews were being conducted to work out what future community services were needed.
Arun District Council leader Gillian Brown said: "We have taken the fight for our hospital - and the demands of more than 8,000 people - to the most powerful street in Britain.
"The people of Littlehampton have made it clear they feel betrayed by NHS leaders.
"We hope Mr Cameron will listen to what we have to say and help us secure the community hospital that we so desperately need and which we have been promised for years."
'Challenging financial position'
A spokeswoman for NHS Sussex said the trust had given a commitment to resolving the situation as soon as possible, hopefully by the end of the financial year.
"It is vital that a decision about future community services Littlehampton takes into account the needs of local people, what services are currently available, the impact of population growth, investment priorities and the challenging financial position that the NHS is currently in," she said.
"We already have some information from previous work and we are in the process of gathering up-to-date analysis to help us make an informed decision.
"This is being done in partnership with local stakeholders including GPs and patient representatives."
She added that NHS Sussex was working "closely" with Mrs Brown and the leader of Littlehampton Town Council.