Train evacuated at Brighton after track fire reported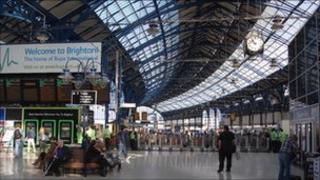 Passengers had to get off a train at Brighton railway station after reports of a fire on the track.
East Sussex Fire and Rescue Service said three crews were sent to the station at about 16:00 GMT. No-one was injured.
Southern Railway said smoke was seen coming from a train inside the station.
All trains to and from Brighton were suspended for about an hour, causing severe disruption to services on the Main Line and South Coast routes.
Southern said trains to and from London were also disrupted because of a person being hit by a train in the South Croydon area.