Sussex death brothers' 'fire obsession not known'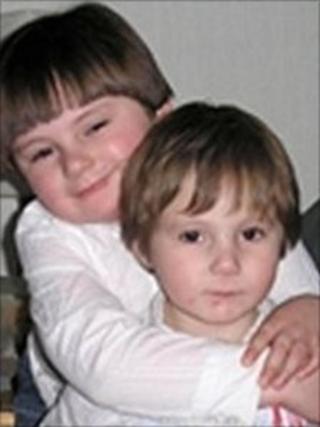 Fire safety at home was not thought to be a "imminent problem" by care agencies working with two brothers who died in a blaze, according to a report.
Lewis Jenkins, seven, and his brother Taylor, five, died from the effects of smoke at the house in Milfoil Drive, Eastbourne, in 2008.
They are believed to have started the fire in a make-shift den.
The boys lived in an "emotionally abusive and neglectful context" because of persistent domestic abuse, it said.
Their parents were involved in substance misuse and did not set consistent boundaries, according to the report which was compiled by the East Sussex Local Safeguarding Children Board (LSCB).
Professionals working with the family also knew nothing of the boys' fascination with fire.
The document said "opportunities were missed to develop a fuller picture of what was going on and what standards of parenting".
Taylor 'fire-obsessed'
But it said better communication between the teams working with the family would not have prevented their deaths.
It added: "Fire safety within the family home was not considered by any professional working with this family to be a presenting and imminent problem because the fact of the fascination with fire from both children was not known to workers.
"Their parents, who appear to have known about this, did not act to ensure that adequate fire safety measures were in place."
Verdicts of misadventure were returned at an inquest into their deaths at Eastbourne Magistrates' Court in October.
The youngsters' mother Denise Goldsmith told the inquest Taylor was "absolutely obsessed" with fire and had previously set paper alight in his bedroom.
The report also described the boys' father as a "pernicious influence" who had subjected Ms Goldsmith to violence and "did not appear able to consider their [the boys'] needs above his own".
It said the bothers lived largely in an "emotionally abusive and neglectful context" due to persistent domestic abuse, parental substance misuse and their inability to set consistent boundaries.
Cathie Pattison, chair of East Sussex LSCB said the case had "highlighted a number of areas where some processes should have been followed more robustly, where some assessments should have been more full, and occasions where information-sharing between agencies should have been better".