Drought-hit Sussex reservoir given help to raise level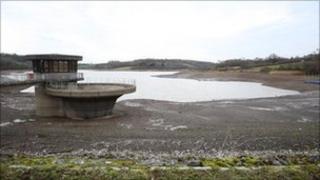 Low rainfall has forced the government to grant a drought order to South East Water to help it protect a reservoir in Sussex.
Water levels in Ardingly reservoir dropped to 12% in November.
The reservoir is partly used to top up the River Ouse if its water flow falls below a set level.
However, this set level has been temporarily reduced in the hope the reservoir will re-establish itself before Spring 2012.
Ardingly reservoir serves more than 65,000 homes across large parts of East and West Sussex.
The drought order, granted by the Department for Environment, Food and Rural Affairs (Defra), is valid until 31 March.
Lee Dance, head of water resources for South East Water, said: "We rely on winter rainfall to recharge our underground water sources and reservoirs to take us through to the warmer spring and summer months.
"The Sussex area has seen an increase in rainfall during December, which has certainly helped the current water resource situation, but it by no means solves the problem."
The minimum flow in the River Ouse is normally set to 20m litres a day. The drought order has temporarily reduced this to 5m.