Sussex Police warn of 'shoulder surfing' in Brighton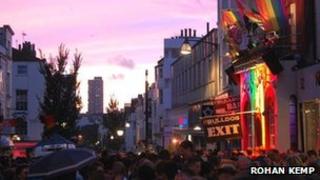 Sussex Police are warning people to be aware of "shoulder surfing" in pubs and clubs in Brighton on New Year's Eve.
Thieves hover at busy bars watching people keying in their PIN numbers in mobile devices, according to police.
They then steal purses or wallets and use bank cards to steal money from cash machines before the victims realise.
PC Claire Horner said she believed some of the thieves work in organised teams thriving in busy, noisy and often dark environments.
"Between the beginning of November and Christmas, we had 28 reported cases in the city," she said.
"Take great care when keying in your PIN - make sure you cannot be overlooked, and keep a close eye on your wallet or purse at all times."