Warning after terrapins abandoned in Brighton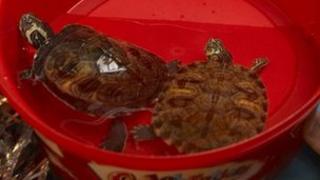 People are being warned of the dangers of abandoning unwanted pets after two terrapins were dumped outside the Brighton Sea Life Centre.
Staff at the attraction, which is closed for refurbishment, discovered the yellow-bellied terrapins in an empty chocolate box.
They named the pair Jingle and Belle and put them in a tank at the centre.
Curator Carey Duckhouse said the terrapins were lucky that staff members had discovered them.
She added: "They're both really cute and happily their ordeal doesn't seem to have caused them any harm.
"Leaving two turtles outside in the middle of winter is never a good idea though, if no one had found the container, they would probably have died.
"It seems that all too often people buy terrapins and other species from pet shops without realising how much care they need or how big they can grow."