Seaford cashier thought armed raid 'was festive joke'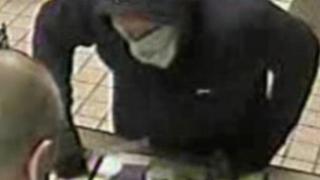 A petrol station cashier who confronted a would-be armed robber has said he thought the incident was a joke.
Martin Sterbaty was working in the BP petrol station in Station Approach, Seaford, when the masked man came in wielding a large kitchen knife.
He said he thought it was a customer carrying out a Christmas joke, but when the man threatened to cut his throat he chased him outside.
Sussex Police are seeking information about the raid on 23 December.
'Incredibly brave'
Mr Sterbaty said: "When he came in I thought he was one of our good customers doing a Christmas joke.
"But he kept repeating that he wanted the money, held the knife near my neck and threatened to cut my throat.
"I slowly put the money into his bag and thought I could scare him away or fight and get the knife off him.
"I shut the till hard and grabbed the bag and ran at him, shouting, and chased him outside."
He said he then locked himself in and used the tannoy to tell the man, who was still arguing and demanding money, what he thought.
Det Con Sheila Nicholson said: "Whilst we never encourage people to risk their safety, Martin was incredibly brave in confronting this man who was wielding a large knife."
She appealed for anyone with information about the raid at about 18:00 GMT to contact the force.
Police have linked it to another incident on 31 October where a man threatened at cashier at the Murco service station in Eastbourne High Street and stole cash.