Duck shot in neck 'by blowpipe' at Lewes pond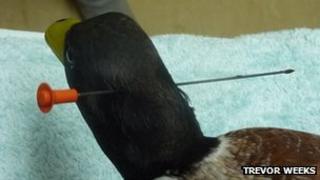 A 13cm (5in) dart, thought to have been fired from a blowpipe, has been removed from the neck of a duck found in East Sussex.
Rescuers spent almost an hour trying to catch the duck at Pells Pond, in Lewes at about 12:30 GMT on Saturday.
A second dart was found embedded in a piece of wood and a fisherman said that a third dart had been removed from another duck's wing on Friday.
The duck is recovering at the rescue centre where the dart was removed.
Staff at the East Sussex Wildlife Rescue and Ambulance Service's Casualty Care Centre at Whitesmith said the bird had a slight infection which needed to be treated before it could be released back into the wild.
Trevor Weeks from the rescue service, said: "The 13cm long dart thought to be from a blowpipe had gone through the muscle in the neck of the male duck not far from the spine.
"Slightly lower and the dart could have paralysed the duck."
Sussex Police have asked anyone who witnessed the attack on the ducks to contact them.