Brighton parents react with anger to music lesson cuts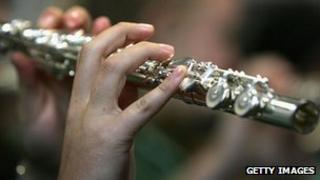 Parents in Brighton have started a campaign to fight cuts to subsidised music lessons in schools.
Brighton and Hove City Council says it needs to reduce spending by £35m in two years and said the music service is not a priority.
However, parents have argued that children from poorer families will suffer most through by the decision.
The council claims it currently has the highest local authority music subsidy in England.
Keith Turvey, who is leading the campaign, said more than 1,700 people had signed a petition against the cuts.
"The cost of lessons to those who can currently afford it would have to be put up significantly," he said.
"There's a real risk this would simply price out many families from being able to afford lessons. Particularly families with a few children or more."
'Tough choices'
Green Party councillor Jason Kitcat, who is the cabinet member for finance at the council, said: "We completely appreciate what music and the arts does for the city - it's just a very tough decision.
"The government is cutting our budget by 33% over four years and we had to make some tough choices between care for disabled children, respite care for carers and other key services.
"We just couldn't find the cash to keep the subsidy at the current level for the music service."