Attacked teenager Mo Bourner able to recognise family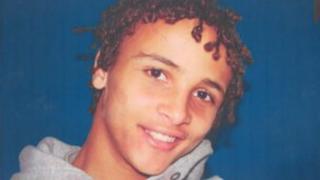 A teenager who was critically injured in an attack in East Sussex is now able to recognise his family after regaining consciousness last month.
But Mohammed Bourner is still not well enough for detectives to interview him about the assault, Sussex Police said.
Mohammed, also known as Mo, was punched in De La Warr Parade, Bexhill, just before midnight on 28 October.
Soldier Ashley Dacosta has been charged with inflicting grievous bodily harm with intent.
Mo had been to a beach party before the attack at Glyne Gap.
He was initially treated at Hurstwood Park Neurological Centre, in Haywards Heath, before being transferred to King's College Hospital in London where he remains.
He was in a coma for six weeks after suffering 90% brain damage and was unable to recognise either of his parents when he first came round.
Det Ch Insp Nick Sloan said that as well as recognising family members he has now written and spoken a few words.
But the improvement is sporadic and not on a regular daily basis.
A spokeswoman said it was believed he would need care for the rest of his life.
Mr Dacosta, based at Victoria Barracks in Windsor, Berkshire, appeared before Brighton Magistrates on 20 December, when he was remanded in custody until 2 March.