South East Coast Ambulance destroyed by fire in Findon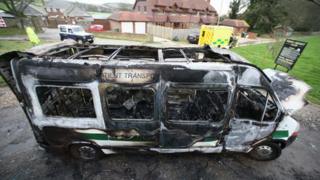 A South East Coast Ambulance (SECAmb) vehicle has been destroyed by a fire in Findon in West Sussex.
West Sussex Fire and Rescue Service said emergency services were called to Long Furlong Road at 08:52 GMT.
Driver Charlie Johnston noticed smoke coming from the passenger foot well and pulled into a car park.
He said: "My main concern was that there were oxygen cylinders onboard, I wanted to get the vehicle off a busy road, away from members of the public."
The patient transport vehicle did not have any passengers on board and no-one was injured in the incident.
Ray Savage, from SECAmb, said: "This is the first example of a PTS vehicle catching fire within the trust.
"We believe it is an isolated fault but SECAmb is investigating to establish the exact cause of the fire."