Investigation into death of Brighton College teenager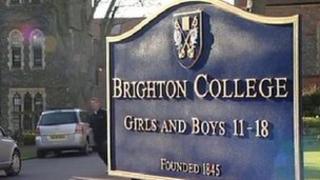 A police investigation has started into the death of a Brighton College pupil who had been suffering from breathing problems.
Naishel Kelly, 14, of Hove, was taken to the Royal Sussex County Hospital in Brighton on Tuesday after having trouble breathing but died.
Police said her death was being treated as unexplained and officers were investigating on behalf of the coroner.
Brighton College said its thoughts were with Naishel's family.
Friends have set up a page on Facebook so people can post their memories of the teenager.
The college said reports that Naishel had died from an allergic reaction to nuts after eating a biscuit were "utterly untrue".
'Death not suspicious'
A spokeswoman said they had been told by police that post-mortem tests showed "no signs of anaphylaxis".
In a statement, a spokesman for Sussex Police said Naishel had received "prompt medical attention" by on-site nursing staff and paramedics but she died in the hospital accident and emergency department.
He added: "Brighton officers are conducting an investigation on behalf of the coroner and medical inquiries are ongoing to establish the cause of the tragic death of Naishel.
"The death is being treated as unexplained but is not regarded as suspicious.
"The family, of Hove, are naturally devastated about the loss of their daughter and are trying to come to terms with the sudden tragic loss of their elder child.
"They have requested that they be left alone to grieve with their supportive relatives and friends. A postmortem took place on Thursday 5 January and further forensic tests are being carried out to establish the cause of death.
"Results are not likely to be known until later this month. However one thing we can say is that it is already clear that eating a biscuit was not a factor in Naishel's tragic death."