Dormice tunnels could be installed under Hastings-Bexhill link road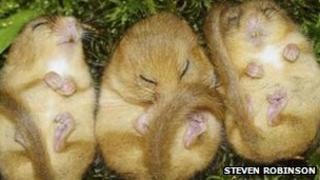 Tunnels could be installed under a planned Hastings to Bexhill link road to enable dormice to cross it safely.
The decision to build the road was put on hold by the Department for Transport in December because of concerns over the environmental impact.
Sussex MP Amber Rudd raised the issue in Parliament highlighting the dormice tunnels and lengths promoters are going to mitigate environmental concerns.
Transport Secretary Justine Greening welcomed the plans for the dormice.
'Dedicated dormice tunnels'
Ms Rudd, who is MP for Hastings and Rye, asked whether the government was aware of the efforts being made to limit the damages to the environment including building dedicated tunnels for dormice to cross the road.
In response Ms Greening said: "I wasn't aware of the proposals as they relate to dormice although I do very much welcome them.
"I have had many representations from people in that region about the importance of this scheme and we are considering them now very carefully and I hope we can announce our final decision on that shortly."
Plans for the road have been discussed for several years and East Sussex County Council said it had already spent £15m on the project.
There has been opposition to the road, which would link the A259 and B2092, crossing Combe Haven Valley near a Site of Special Scientific Interest.
Government funding for the road was initially put on hold by the coalition government in 2010 but in December the decision was again delayed until this year.