Sussex owner of missing iPad uses photo to help trace it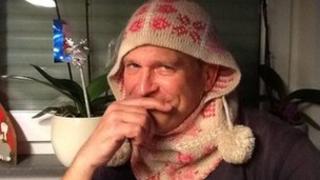 An IT consultant is attempting to track down his missing iPad by using photos taken on it.
Tom Clarke, 26, from Hove, in Sussex, either lost or had his iPad stolen while shopping in a Tesco store.
Several days later photos taken on the device - showing a man in a woolly hat - were automatically streamed to his mobile phone through Apple's iCloud software.
Mr Clarke has appealed for the person in the photo to help him trace it.
He said: "All I want is for Sussex Police to be able find the guy in the woolly hat because he knows who has got my iPad."
Mr Clarke said he had gone shopping in a Tesco store on 18 December in Holmbush Shopping Centre, in Shoreham, using his iPad as a shopping list.
When he returned home he realised it was missing.
On 24 December several photos taken of the man, a dog and some luggage were automatically sent to his phone.
A spokeswoman for Sussex Police said: "We are investigating and have received photos from the iPad to consider."