Sussex co-operative brewery looking for new members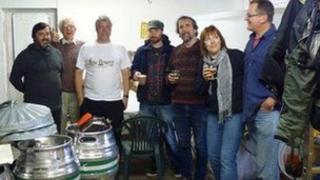 A co-operative formed to save a local brewery is getting ready to make its first commercial pint.
The Adur Valley Co-operative was set-up up to run the Adur Brewery, in Steyning, Sussex.
Its founder members have appealed for more people to come forward and join the co-operative and an open day is being held today at the brewery.
After five successful test brews, members have said they are now ready to go into full production.
According to Graham Timmins, who is chairman of the co-operative, the brewery, which first opened in 2008, was mothballed last year by the previous owner.
New members are required to invest in the project and work cleaning the equipment, delivering beer, bottling and maintaining the brewery grounds.
They will also be required to help run the website, organise social events and help to brew.