Father of injured teenager Mo Bourner thanks Bexhill residents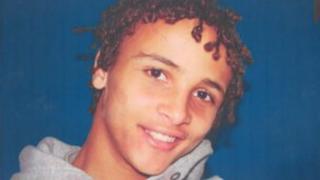 The father of a teenager left brain damaged after an attack on Bexhill seafront has thanked the local community for its support.
Mohammed Bourner, 16, known as Mo, was punched in De La Warr Parade, Bexhill, just before midnight on 28 October.
He suffered 90% brain damage and is being treated at King's College Hospital in London.
His father Peter, said people had raised money to pay the rail fares of Mo's friends visiting him in hospital.
Mr Bourner said: "One thing that has been long overdue is for us to thank from the bottom of our hearts all the people who have shown such love and concern for Mo, and who have helped him and us throughout these terrible months.
"He's never going to be the carefree boy we once knew, though for him to be alive and to have got to the stage he has, is a miracle."
Soldier Ashley Dacosta has been charged with inflicting grievous bodily harm with intent.
Mr Dacosta, based at Victoria Barracks in Windsor, Berkshire, appeared before Brighton Magistrates on 20 December, when he was remanded in custody until 2 March.