Victoria Couchman's skull 'found by children playing'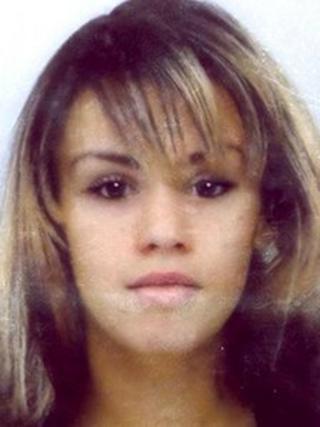 Children played with a dead woman's skull after finding it in woodland in East Sussex, an inquest has heard.
Youngsters made the discovery in Redgeland Wood in the Queensway area of St Leonards in October 2008.
Searches of the area found other body parts belonging to Victoria Couchman, 19, whose father, Tony, was charged with her murder.
Mr Couchman killed himself in prison before he faced trial. The coroner recorded a verdict of unlawful killing.
'No burial attempt'
Forensic archaeologist Lucy Sibun said various body parts belonging to the woman, who lived in Beecham Place near the woodland, were missing.
She said: "There was no evidence of any attempt to bury. All the remains were laying on the surface without any burial.
"No clothing and no personal possessions were found during a fingertip search."
Forensic pathologist Dr Kenneth Shorrock was unable to give a cause of death but said the "distinct possibility" was that Ms Couchman was strangled.
He said: "Victoria was a young woman and a common way to kill young women is to strangle them."
He also said it was "very unlikely" her feet and hands had been removed by a human but more likely they had been removed animals.
Bled to death
Single mother Ms Couchman went missing in May 2008.
The inquest at Hastings Magistrates' Court heard she had probably been killed five months before her remains were found but none of her family or friends reported her missing to police.
In August 2009 Mr Couchman pleaded not guilty to murdering her between 15 May and 18 May 2008.
He was due to stand trial in January 2010 but bled to death after slashing his arm in his cell on the wing for vulnerable inmates at HMP Lewes.
The 47-year-old, who had lived with his daughter in Beecham Place, was also accused of perverting the course of justice. He had denied both charges.