No police pursuit in Brighton fatal crash, says IPCC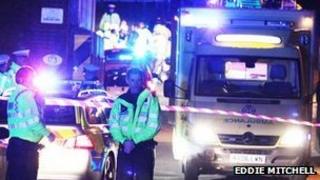 Police did not pursue a stolen car before it crashed in Brighton, leaving a passenger dead, the police watchdog has confirmed.
A 35-year-old man from Liverpool died when the Mazda MX5 hit railings in Mill Road, on Saturday night.
The Independent Police Complaints Commission (IPCC) said: "There was no police pursuit of the stolen Mazda."
Two other men in the car, both from Brighton and aged 39 and 33, were arrested and bailed until 20 February.
Both men were injured in the collision and are being held on suspicion of aggravated vehicle taking and causing death by dangerous driving.
'Suitable tactics'
A Sussex Police said that before the crash, the stolen car had been driven off at speed after it passed a stationary police car in Mill Lane, at about 23:00 GMT.
A spokeswoman said the police car "started to follow the car for a matter of seconds".
But the IPCC told the BBC: "There was deemed to be no formal pursuit by police in the sense that while the police car may have followed for a brief period, the collision happened within a few seconds."
In a statement, the IPCC said: "There is evidence Sussex Police had considered suitable tactical options for a safe conclusion to this incident."