Saga confirms plans for 500 new jobs in Hastings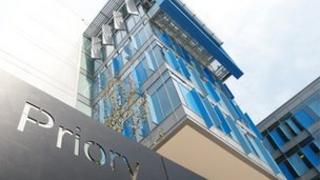 The insurance company Saga has confirmed it will go ahead with plans to recruit 500 new staff in Hastings.
The company opened offices in Priory Square in January 2011, with a plan to bring 800 new jobs to the town.
Since then it has employed 300 new staff and now says it will recruit a further 500 people over the course of this year.
Roger Ramsden, Saga Insurance chief executive, said: "We are absolutely delighted with the progress."
He added: "Everything we thought would work in terms of the location, the quality of the people, the support we've had from the local community has absolutely come to pass."
'Tough economic times'
Amber Rudd, MP for Hastings and Rye, said: "It is good news. Saga were made very welcome when they arrived in Hastings with their big announcement of up to 800 new jobs, but we needed to see them bed in for a year to see how successful the employment could be in Hastings.
"I think they've confirmed that's really been the case so they are going to push on, so we are very fortunate."
Last year the company interviewed more than 1,000 people for 300 jobs.
"There is a steady demand for the roles, which is pleasing for us from a employment point of view, but in part does reflect the tough economic times we are all operating in," said Mr Ramsden.
A large number of the new roles will be in the call centre plus jobs in customer service, claims handing and support staff, catering and security.