Brighton College student Naishel Kelly's death 'due to asthma'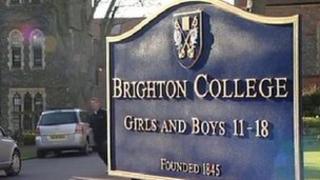 The death of a teenager who suffered breathing problems at Brighton College was caused by asthma, a pathologist has confirmed.
Naishel Kelly, 14, was taken ill at the college on 3 January. She later died at the Royal Sussex County Hospital.
Police investigated on behalf of the coroner because at first her death was being treated as unexplained.
Her godmother, Amanda Kelly, said: "On the day she died, she seemed so full of life and energy."
She added: "Yet it appears that her asthma was far worse than any of us thought.
"Although we are still struggling to believe that Naishel has really gone, it is at least of some help in the midst of our grief to know for certain what caused her to be taken from us so suddenly.
"Naishel was a beautiful girl who brought a smile and a sense of fun to everything she did and we will miss her more than words can say."