New West Sussex home for 'endangered' water voles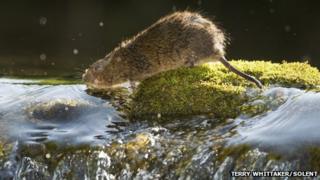 Water voles on the West Sussex coast are to be encouraged to move to a new habitat created by flood defence work.
Work began in November on the £15m Selsey sea defences to protect 300 homes at risk of flooding.
A new wetland habitat on Manhood Peninsula, west of Selsey, will be created as part of the project.
A 30-strong team of volunteers will monitor the condition of ditches, streams and ponds leading to the area from the voles' existing habitat.
The Manhood Wildlife and Heritage Group project has been given a grant of £50,000 from the Heritage Lottery Fund for the work.
Defences breached
Dr Jill Sutcliffe from the group said: "We need to ensure that the ditches that lead to those new habitats are in good condition.
"The key aim is to create a long term sustainable future for the endangered water vole."
The existing shingle defences at Selsey Bill were breached in 2008 and a beachfront campsite, with more than 2,000 static caravans, had to be evacuated.
The new four-mile long sea defences will be built further inland and will also create a new wetland habitat for wildlife.
Water voles have become endangered after the destruction of their habitats and the introduction of the American mink which preys on them.
In 2005, 171 water voles were reintroduced to the Arundel Wetland Centre by the Wildfowl and Wetland Trust.
These have now bred and successfully established themselves in their new habitat.