Dragons arrive in Hastings for Chinese New Year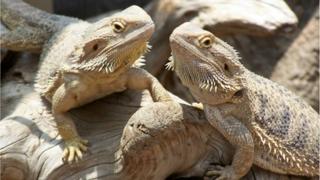 Three bearded dragons have arrived at a Sussex aquarium in time for the start of the Chinese year of the dragon.
The two females and a male are just over a year old and were donated to the Hastings Blue Reef Aquarium by a private keeper.
Native to Australia, fully-grown bearded dragons can reach a length of 60cm (2ft).
Chris Ireland, from the Blue Reef Aquarium, said: "They are stunning looking and very friendly."
He said that all three of the aquarium's new residents were happy to be handled.
The reptiles' common name comes from their habit of puffing out their throats when they are excited or angry, giving the appearance of a beard.
Might and intelligence
In the wild, bearded dragons will try to escape from danger by standing on their hinds legs and running away.
They live in rocky and arid regions of Australia and in dry, open woodlands.
The dragon, the only mythical creature among the 12 animals of the Chinese zodiac, is regarded as a symbol of might and intelligence.
In ancient China, the dragon was associated with the emperor.
The Chinese year of the dragon starts on Monday.