Martin Adams helps Eastbourne RNLI in brother's memory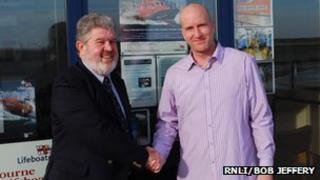 A man whose brother drowned 30 years ago is using his company to help the Eastbourne RNLI.
In 1982, 13-year-old Simon Staples and his stepfather Donald Adams were swept out to sea during a severe gale.
Mr Adams was rescued but Simon drowned despite the best efforts of volunteers aboard the Eastbourne lifeboat.
Martin Adams, who witnessed the event aged 11, is using his distribution company to supply and deliver leaflets to households appealing for donations.
The money will help to pay for a new boat.
So far, 60,000 leaflets have been produced and a spokesman for the lifeboat appeal said that donations were already coming in as a direct result.
"We are always looking for volunteers to help raise funds for our new lifeboat and as Martin has proved, that help doesn't always mean directly parting with cash.
"Sometimes practical help such as this is just as beneficial."