Drusillas zoo keepers mourn veteran Sussex heron Henry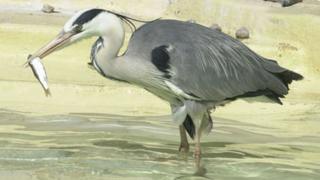 A heron that became "a legend" at a Sussex zoo after visiting every day for more than 20 years to steal food from the penguin pool has died.
The bird, named Henry, formed a bond with staff at Drusillas zoo in the 1980s when keepers nursed him back to health after he injured his wing.
Henry was released into the wild after he recovered but continued to visit the park every day at feeding time.
Keepers said the veteran heron died with his friends at the Alfriston park.
Henry, who was found in the penguin enclosure, had reached his mid-20s but his exact age was unclear.
'Cheeky chap'
Sue Woodgate, who is now the zoo manager, had started working as a junior keeper when Henry was brought in with an injured wing after he had been hit by a car.
She said the pair developed a special bond which continued over the years.
"Henry was a real character and we will certainly miss the cheeky chap," she said.
She said it was thought Henry went on to have a nest at the Cuckmere River and a female companion and a family of his own.
She added that Henry sometimes brought other members of his flock to the zoo for a fish supper and she hoped they would continue to return .