Pink Floyd wife Polly Samson tells of Hove sea rescue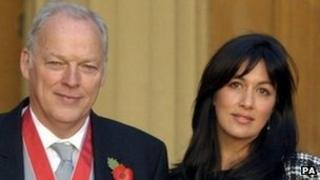 The wife of Pink Floyd's David Gilmour has told of how she and others helped to save a man from the sea.
Polly Samson, who lives with her husband in Hove, East Sussex, was one of several people who saw a man entering the sea in Kingsway, Hove, on Wednesday.
Ms Samson told her followers on Twitter she had been left "weirdly shaken by saving someone".
Sussex Police said a man was taken to hospital and later sectioned.
Ms Samson said a "brave man" with earrings stripped off to help save the man in the sea.
A spokesman for Sussex Police said: "A man was seen to go into water at Kingsway, Hove, at 1.25pm on Wednesday.
"He was pulled from the water by police officers and taken to the Royal Sussex County Hospital. He was arrested and sectioned."
South East Coast Ambulance said the man was aged in his 40s.