'Lawful killing' verdict at Michael Fitzpatrick inquest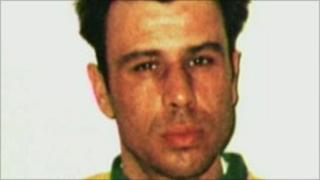 A man shot dead by police in a street in Brighton was lawfully killed, an inquest jury has concluded.
Michael Fitzpatrick, 49, was shot by officers in Rock Place, in the Kemptown area of the city, on 10 February 2011.
He was wanted by police and had pulled out a gun after officers stopped him, Brighton Coroner's Court was told.
Coroner Veronica Hamilton-Deeley withdrew the option of an unlawful killing verdict before the jury began deliberations.
The jury took three hours to reach a unanimous verdict.
Mr Fitzpatrick was wanted in connection with a string of armed robberies in the Mid Sussex and Brighton and Hove areas.
'Difficult decisions'
The inquest heard he had told a friend in the weekend before the shooting he would "rather be dead" than go back to prison.
And the airgun he was carrying looked so realistic it was only found to be a replica when it was examined after his death.
The jury heard he would have needed a licence for the gun but was prohibited from owning one because of previous convictions and there was no magazine in the weapon.
Assistant Chief Constable Olivia Pinkney said her thoughts were with the family and friends of Mr Fitzpatrick.
She said: "The decision made by officers that day is one of the most profoundly difficult decisions an officer may face in their career.
"As heard during the inquest, the officers had just three seconds to take action to protect themselves and members of the public against the visible threat of a firearm.
"Firearms officers are highly trained and the use of lethal force is seen as a last resort to protect the public or themselves.
"Any decision to use that high level of force will weigh heavily on those officers' minds."
An investigation by the Independent Police Complaints Commission (IPCC) found no evidence of any "criminal or misconduct offences" by the officers involved.
IPCC Commissioner for the South East, Mike Franklin, said: "Firearms officers often find themselves in incredibly challenging situations where they are required to make split-second life and death decisions. A position most of us will never find ourselves in.
"Clearly, the outcome of this tragic incident is not the conclusion anyone wanted.
"However, I am confident we have thoroughly and independently investigated the full circumstances of this fatal shooting and have concluded the action taken by the firearms officer could not have been avoided."