Brighton gritting fleet at work as heavy snow forecast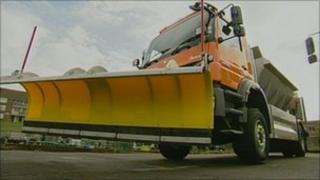 Gritters have been out in force and an emergency homeless shelter has opened in Brighton as temperatures plummet, with forecasts of heavy snow.
The city council has gritted roads during the week and has urged people to check on vulnerable neighbours.
In West Sussex, Gatwick Airport urged passengers to check with their airlines before travelling after weather warnings were issued across the UK.
Gatwick invested £8m in snow and ice clearance fleets after last winter.
Forecasters said heavy snow was expected after dusk on Saturday.
Homeless outreach team
The Met Office issued amber "be prepared" snow warnings for areas across the UK, including the South East.
The region was bracing itself for 5-10cm (up to 4in) of snow.
Brighton and Hove City Council said it had invested in a new fleet of gritting vehicles this year and a motorised pavement gritter.
The local authority also said it had increased the number of grit bins in the city.
The council said it would not be able to grit every road and pavement and would prioritise the routes that would help keep the city moving.
Brighton council opens an emergency homeless shelter if three consecutive nights of freezing temperatures are forecast.
The council said its outreach team worked to make contact with as many homeless people as possible.