Brighton blue plaque marks city's Charles Dickens links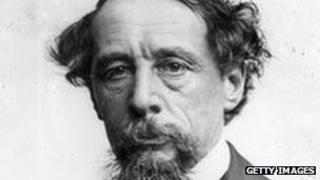 A blue plaque has been unveiled at a Brighton hotel where Charles Dickens stayed on his many trips to the city.
The unveiling of the plaque was to mark the 200th anniversary year of the author's birth.
When Dickens visited, the hotel was a luxurious and fashionable venue called the Bedford Hotel, but it burnt down in 1964. A Holiday Inn is now there.
Dickens's great-great-grandson, Ian Dickens, unveiled the plaque on the seafront site.
Brighton councillor Geoffrey Bowden, cabinet member for culture, recreation and tourism, said the Bedford had also had its own plaque to honour Dickens but it was lost during the fire.
The five-storey Georgian building opened as a hotel in 1829 and the original plaque was unveiled in 1925.
The current 17-storey building opened in 1967, including hotel rooms and the residential flats of Bedford Towers.
'Royalty and celebrities'
Mr Bowden said: "Blue plaques raise awareness of the great and the good who have had connections with our city.
"Charles Dickens excites huge interest globally, and we are delighted to be able to mark his connection with and love of our city in this way."
He said references to Brighton in Dickens's works could be seen in Dombey and Son, where Paul Dombey is sent away to Brighton and educated at Doctor and Mrs Blimber's School in Upper Rock Gardens.
Other references can be found in Bleak House, Nicholas Nickleby, and Sketches by Boz.
The novel The Life and Adventures of Martin Chuzzlewit also mentions an ale by the name of the Brighton Tipper.
In its heyday, the Bedford was known for its notable guests, including royalty and celebrities of the time.
The Bedford is also mentioned in Brighton Rock, the novel by Graham Greene.
Graham Greene thinly disguises the hotel as the Cosmopolitan and uses it as the base for Brighton gang leader Mr Colleoni.
Brighton council said funding for the blue plaque came from a number of sources including a donation by the residents of Beford Towers and a contribution from the Brighton and Hove Commemorative Plaque Panel.